Today, we watched Scooby-Doo cartoons, original show, all day.
We worked on some ideas for our Halloween Wedding.
We also worked on the DragonWyck Blogs and looked at other Halloween themed blogs.
We watched "The Blob" remake and "The Brood".
Photo of The Day: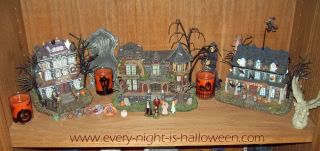 This is most of our Munsters Village collection. There are 2 more pieces to it on another shelf. We have a nice size Munsters collection. We have several dolls and figures and paper goods, plus some other Munster collectibles including autographs.
It's such a cool show.