Christmas we had a Spooky Christmas Party. We opened our Christmas presents and ate yummy food and watched movies.
We ate:
Mexican Pizza.
Pork & Shrimp Egg Rolls with duck sauce.
Mushroom Turnovers.
7UP with Cherries.
Cherry Bomb Fruit Cake.
Cool Whip.
We watched:
The Nightmare Before Christmas.
Vincent.
Frankenweenie.
Tales From the Crypt "And All Through The House" from series.
Tales From the Crypt movie segment "All Through The House".
Black Christmas original.
Some cool stuff I got for Christmas this year:
Two Gothic Fairy Doors.
Skull and Crossbones earrings.
The Birds Barbie.
The X-Files season 2.
Horror computer game called Scratches.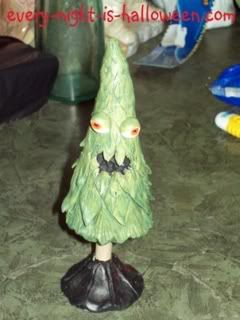 Spooky Christmas table decoration made by Dagon.